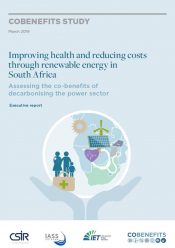 Air pollution, primarily from coal-fired power plants, is one of the main impacts that the energy sector has on the environment and human health. These pollutants have many negative impacts, of which those of greatest concern include heart disease, lung cancer, stroke and chronic obstructive pulmonary disease (WHO, 2016). The consequences of such diseases include increased levels of morbidity, which further result in elevated health costs and losses of productivity. This study quantifies the impacts of South Africa's power sector on human health, and how a shift to a less carbon-intensive power sector can help to reduce negative impacts and contribute to reducing costs in South Africa's health system.
Improving health and reducing costs through renewable energy in South Africa. Assessing the co-benefits of decarbonising the power sector
Download:
Year of publication: 2019
Editors: Ayodeji Okunlola, David Jacobs, Ntombifuthi Ntuli, Ruan Fourie, Laura Nagel and Sebastian Helgenberger – IASS Potsdam, CSIR and IET
Technical implementation: Mamahloko Senatla, Jesse Burton, Lehlogonolo Chiloane, Unarine Mudau Bryce and Raj Naidoo – Council for Scientific and Industrial Research (CSIR), Energy Research Centre and University of Pretoria, Smart grids research group, South Africa
DOI: 10.2312/iass.2019.008
This study is part of a 2019 series of four studies assessing the co-benefits of decarbonising the power sector in South Africa, edited by IASS and CSIR.