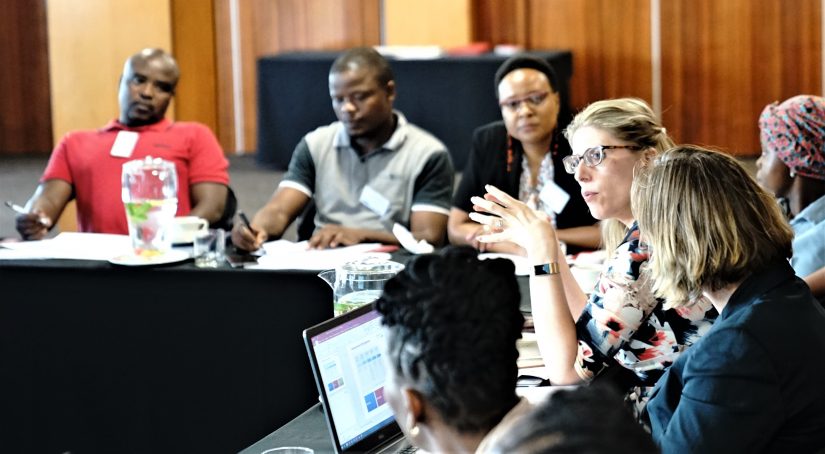 The COBENEFITS project offers training courses on the co-benefits of climate change mitigation with renewable energy technologies and on country-specific co-benefits in the partner countries South Africa, India, Vietnam and Turkey.
The cours­es are cre­at­ed by RENAC, one of the lead­ing inter­na­tion­al providers for train­ing and capac­i­ty build­ing on renew­able ener­gy and ener­gy effi­cien­cy, in col­lab­o­ra­tion with the project con­sor­tium, nation­al focal points and local knowl­edge part­ners.
RENAC fol­lows a blend­ed learn­ing approach, i.e. the com­bi­na­tion of online cours­es (e‑learning) as prepa­ra­tion for face-to-face train­ings to be con­duct­ed in the part­ner coun­tries in 2018 and 2019. With­in the project dura­tion from 3/2017 until 2/2020, the fol­low­ing train­ing mea­sures are planned:
Cre­ation of new co-ben­e­fits online cours­es with a total learn­ing time of 120 hours (Addi­tion­al­ly, fur­ther online cours­es are offered to poten­tial par­tic­i­pants depend­ing on the spe­cif­ic needs of the part­ner coun­tries)
Face-to-face train­ings with a total dura­tion of 14 days in each part­ner coun­try
The cours­es will cov­er var­i­ous aspects of renew­able ener­gy tech­nolo­gies, co-ben­e­fits of renew­able ener­gy in cli­mate change mit­i­ga­tion, method­olo­gies and tools to assess co-ben­e­fits, inter­na­tion­al and nation­al cli­mate poli­cies, and sus­tain­able pow­er sys­tem plan­ning.
Who can apply for the COBENEFITS train­ings?
The COBENEFITS train­ing pro­gramme is tar­get­ing pro­fes­sion­als from India, South Africa, Viet­nam, and Turkey work­ing in the fol­low­ing pub­lic and pri­vate sec­tors:
Min­istries recog­nis­ing the impor­tance of cli­mate protection/policy and/or with respon­si­bil­i­ty for ener­gy pol­i­cy on nation­al lev­el
Sub­or­di­nate author­i­ties and reg­u­la­tors, region­al or local admin­is­tra­tion
Pol­i­cy mak­ers on subnational/state lev­el
Finan­cial insti­tu­tions
Ener­gy or cli­mate relat­ed agen­cies, think tanks and research insti­tu­tions
Online trainings
Online train­ings are open between 10.09.2019 and 31.01.2020. Par­tic­i­pants that have suc­cess­ful­ly reg­is­tered can start the class­es at any time with­in this time­frame. There is no reg­is­tra­tion dead­line. Please note that the last chance to pass the exams to get your "COBENEFITS Spe­cial­ist in Renew­able Ener­gy" cer­tifi­cate is 27.01.2020.
The online train­ings con­sist of the fol­low­ing mod­ules:
Co-Ben­e­fits Fun­da­men­tals
Co-Ben­e­fits Poli­cies
Co-Ben­e­fits Method­ol­o­gy and Ener­gy Plan­ning
More information and how to apply
For more infor­ma­tion about train­ing top­ics, require­ments for par­tic­i­pa­tion, schol­ar­ship options, dates and dead­lines for appli­ca­tion please vis­it https://www.renac.de/projects/current-projects/cobenefits/
Con­tact: Roman Buss, (buss@renac.de)