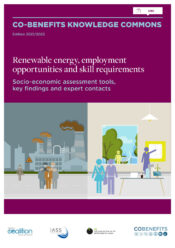 Renew­able ener­gy tech­nolo­gies are job boost­ers: in 2020, the renew­able ener­gy sec­tor employed at least 12 mil­lion peo­ple around the globe. Many gov­ern­ments world­wide have rec­og­nized that the ener­gy path­way they choose will not only have an impact on com­bat­ting glob­al warm­ing and meet­ing cli­mate goals, but also define the basis for their coun­tries' future devel­op­ment. Renew­ables can cre­ate sus­tain­able jobs and improve the gen­der bal­ance in the future ener­gy sector.
To har­ness the full poten­tial of the social and eco­nom­ic co-ben­e­fits of renew­ables and to build the skills base need­ed for the ener­gy tran­si­tion, deci­sion­mak­ers depend on reli­able data.
With this fact­sheet series, we seek to present the state of the art in assess­ing employ­ment co-ben­e­fits, inter­con­nect­ing cli­mate friend­ly pow­er plan­ning and sus­tain­able job cre­ation. This joint fact­sheet edi­tion con­nects pol­i­cy­mak­ers in local and nation­al gov­ern­ment agen­cies with expert organ­i­sa­tions and con­tact per­sons, to quan­ti­fy spe­cif­ic employ­ment co-ben­e­fits, assess pol­i­cy options and unlock poten­tials for peo­ple and communities.
Co-ben­e­fits Knowl­edge Com­mons: Renew­able ener­gy, employ­ment oppor­tu­ni­ties and skill requirements
Year of pub­li­ca­tion: 2021
Pub­lished by the COBENEFITS project in col­lab­o­ra­tion with the Sus­tain­able Ener­gy Jobs Work­ing Group under IRENA's Coali­tion for Action
Edit­ed by Franziska Sper­feld, Sarah Kovac, Sophie Dolin­ga, Lau­ra Nagel, Héc­tor Rodríguez – UfU and IASS