Found 26 Results
|
Page 1 of 5
Decarbonising the power sector in Vietnam comes with many co-benefits for energy access and local value creation, and the shift to renewable energy creates new jobs.
These executive briefings are the first presentation of the COBENEFITS assessment results in Vietnam. The executive reports will be published in August 2019.
---
Ohne die Energiewende können Deutschlands Klimaziele nicht erreicht werden. Die Richtung stimmt bereits, aber es geht nicht schnell genug voran. Dabei gibt es neben dem Klimaschutz noch viele weitere gute Argumente für Erneuerbare Energien – zum Beispiel saubere Luft, zukunftsfähige Arbeitsplätze und eine faire Regionalentwicklung.
Das Factsheet gibt einen Überblick über die Co-Benefits eines ambitionierten Klimaschutzes mit Erneuerbaren Energien für Deutschland.
---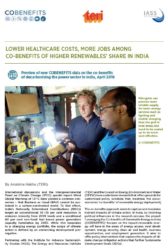 April 2019
In India, the COBENEFITS project assessed the impact renewable energy will have in the areas of energy access, rural development, energy security, clean air and health, business opportunities, and employment generation. This is a preview of the findings.
Download:
---
This IASS Policy Brief makes three recommendations for strengthening international cooperation in support of a global energy transition:
Promote investment in clean energy and end support for coal-based energy infrastructure.
Tackle the socio-economic dimension of the global energy transition.
Provide early market support to promote challenge-based energy innovation.
---
Our assessments of the co-benefits of decarbonising the power sector in India are in the final stage of editing. Get a first look at the results here:
The studies have been edited by IASS and The Energy and Resources Institute (TERI). Read more about our work in India and the ministries that contributed their guidance as part of the COBENEFITS Council here.
---
South Africa's renewable energy (RE) procurement policy is unique globally in its emphasis on providing benefits for communities in the vicinity of projects
participating in the RE Independent Power Producer Procurement Programme (REIPPPP). RE projects are primarily located in rural communities, frequently
categorised as "marginalised communities". The REIPPPP has created a legal framework to incentivise IPPs to channel benefits to communities near RE
project sites through a range of means, including local employment quotas, community ownership in RE projects, as well as contributing a proportion of their revenue towards development spending, known as socio-economic development (SED) and enterprise development (ED) spend. This study assesses the SED and ED impacts of renewable energy deployment in marginalised communities in South Africa
Economic prosperity for marginalised communities through renewable energy in South Africa. Assessing the co-benefits of decarbonising the power sector
Download:
---
Page 1 of 5