Dur­ing the first week of the COP25 in Madrid, the COBENEFITS team co-organ­ised and par­tic­i­pat­ed in diverse dis­cus­sions and pan­els. How can co-ben­e­fits be active­ly mobi­lized for ambi­tious and ear­ly action? How can just tran­si­tion mea­sures be effec­tive­ly includ­ed into NDCs? Through dis­cus­sion with local prac­ti­tion­ers, diverse NGO rep­re­sen­ta­tives and COP25 atten­dants, the mile­stones for more ambi­tious cli­mate action were defined as the sci­en­tif­ic local research on the social and eco­nom­ic oppor­tu­ni­ties of cli­mate action and the effec­tive com­mu­ni­ca­tion of these co-benefits.
Amongst oth­ers, increased employ­ment for mid­dle- and high-skilled work­ers in Turkey, reli­able ener­gy sup­ply through wind tur­bines in Viet­nam, rough­ly one mil­lion USD ener­gy-costs sav­ings per year in Mexico's pub­lic build­ings through ener­gy effi­cien­cy, and many oth­er co-ben­e­fits of cli­mate action were dis­cussed by the COBENEFITS team at COP25.
At the EU Pavil­ion, the dis­cus­sion on "Mobil­is­ing Co-Ben­e­fits and rais­ing NDC ambi­tion with Just Tran­si­tions" was enriched with the per­spec­tive from Ana Toni, direc­tor of the Insti­tu­to Cli­ma e Sociedade (iCS) from Brazil. It was empha­sized how only effec­tive social inclu­sion of both rur­al and urban pop­u­la­tions at the Ama­zo­nia region will be able to holt defor­esta­tion and con­se­quent­ly the strength­en­ing of Brazil's NDC. Fur­ther­more, Daniel Cha­con, ener­gy direc­tor from Ini­cia­ti­va Cli­mat­i­ca de Mex­i­co, pre­sent­ed the work with COBENEFITS as an exam­ple of the own­er­ship prin­ci­ple and capac­i­ty build­ing as dri­vers for switch­ing high-lev­el dis­cus­sions of cli­mate action to hands-on work at the local level.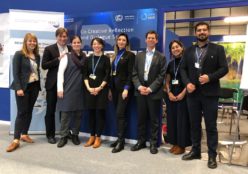 Nation­al and non-gov­ern­men­tal actors show­cased strate­gies to tack­le both cli­mate and air qual­i­ty chal­lenges at the UNFCCC´s side event "Strength­en­ing cli­mate promis­es: near-term mit­i­ga­tion via joint action on NDC pro­vi­sions & air qual­i­ty". Mara Gomez from the COBENEFITS team pre­sent­ed the South African research stud­ies on increased renew­able ener­gy deploy­ment in South Africa and its impact in the health sec­tor, "mul­ti­lat­er­al dia­logues are a mile­stone to achieve clean ener­gy path­ways", added the researcher. Results from South Africa stud­ies are sum­marised in the fol­low­ing link. Addi­tion­al­ly, Sven­ja Schulze, Fed­er­al Min­is­ter for the Envi­ron­ment, Nature Con­ser­va­tion and Nuclear Safe­ty from Ger­many, also point­ed to the oppor­tu­ni­ties of cli­mate action when opt­ing for renew­able ener­gies instead of coal, empha­siz­ing the COBENEFITS research on the topic.
At the SDG Pavil­ion, UNDP and local rep­re­sen­ta­tives from Latin Amer­i­ca and Kenya dis­cussed the impact of ener­gy access to ful­fill­ing SDGs' goals. At the "NDC Trans­for­ma­tive poten­tial of small-scale ener­gy access invest­ments: link­ing com­mu­ni­ty action to SDGs and NDC imple­men­ta­tion" dis­cus­sion, nar­row­ing the gap between local and nation­al pol­i­cy-mak­ing was addressed. The COBENEFITS research on the top­ic refers to eval­u­at­ing the best ener­gy option for rur­al com­mu­ni­ties in Viet­nam, which geo­graph­ic par­tic­u­lar­i­ties make it a chal­lenge to con­nect to the nation­al grid. The exec­u­tive reports on Viet­nam can be found in our Resources sec­tion.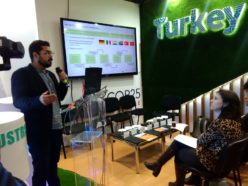 In the Turkey pavil­ion, the dis­cus­sion on "Social and Eco­nom­ic Co-Ben­e­fits of Cli­mate Change Mit­i­ga­tion: Employ­ment, Indus­tri­al Devel­op­ment and Ener­gy Tran­si­tion" com­pared the employ­ment oppor­tu­ni­ties of increased deploy­ment of solar ener­gy in Turkey and Mex­i­co. Over 7,400 FTE jobs along the solar val­ue chain and more than 59,000 FTE jobs along the wind val­ue chain will be cre­at­ed in Turkey in the next ten years alone with the cur­rent ener­gy pol­i­cy. "In Mex­i­co, in the con­struc­tion phase, all RE tech­nolo­gies out­per­form fos­sil pow­er gen­er­a­tion tech­nolo­gies, par­tic­u­lar­ly wind pow­er with more than 21 job-years per installed MW and PVDG with around 9.5 job-years per installed MW" pre­sent­ed COBENEFITS researcher Hec­tor Rodriguez.